Welcome to Kasturbastrivikasgruh.org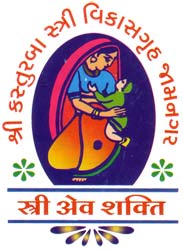 Date of Establishment 02.10.1957
Shri Kasturba Stri Vikas Gruh
Address : Kasturba Gandhi Marg, JAMNAGAR 361 008 (Gujarat) INDIA
Phone No. : +91 288 275 1728, 275 3000
Fax : +91 288 275 1730

E-mail : kasturbastrivikasgruh@yahoo.co.in , Web : www.kasturbastrivikasgruh.org


Click here to download Adoption Form
AIM
Whether we peep into the distant or the near past or look at the progressive present, woman is where she was, at the lower end of the social pole, always being unjustly treated and exploited.
In terms of the values of today ant tomorrow, to help establish a woman's personality and to stretch a hand to make her come out of rank injustice and degrading exploitation and help her stand firmly on her two legs in society, SHRI KASURBA STREE VIKAS GRIHA WAS FOUNDED IN 1957.
SHELTER
SMT. MANIBEN MEGHJIBHAI SHAH MAHILA ASHRAYA GRIHA
The pioneering activity undertaken by the Vikas Griha was the starting of this Mahila Ashraya Griha, the Shelter Home for women, driven out of their homes, suppressed by traditions, and victims of moral abnormalities. Any woman abandoned by her own kith and kin and on the verge of collapse gets a welcome, soothing shelter and then, a helping hand.
After their wounds are healed, the inmates are provided with various opportunities of training to help them stand on their own. Efforts are made to resettle them in society as honorable citizens.
GUIDANCE
FAMILY COUNSELLING CENTER, ADOLESCENT GIRLS' COUNSELLING CENTER, LEGAL AID CENTER (CELL)
The Family Counseling Center works for maintenance of Social Balance and provides guidance in matters of family disputes.
The adolescent Girls' Counseling Centre provides much needed guidance to the 1320 age group, facing social, psychological and moral problems.
The Legal Aid Centre helps woman to fight against social injustice, oppression and persecution arising out of he evils of dowry, rape, harassment, prostitution etc., makes the victims aware of heir rights and helps them secure justice and safety.
MESSEGERS OF GOD
MATUSHRI JIVIBAI HOME FOR INFANTS AND CHILDREN
This Home takes care of infants born to unwed or widowed mothers, who have fallen a prey to, very often, some close relative's lust. Some of them are abandoned on a roadside or thrown on a garbage heap. This Home showers parental care n such kids till they reach the age of seven.
There is also a CRECHE for the children of working women.
Many families in India and abroad – but of India origin only – have come forward to adopt tiny tots. The resettlement is great success.
BLOSOMING BUDS
MATUSHRI RAMBHABEN JAMNADAS TANNA BALPRATISHTAN
The Bal Pratishtan admits orphaned, abandoned, harassed, oppressed and victimized girls. A few girls may themselves have made some slop out of temptation. Girls committed by the Dist. Children's Court are also recommended to the custody of this Home.
Arrangements are made for their regular schooling and development of taste for music and crafts. They live in houses, where senior girls look after and guide the juniors. All efforts are made to make them feel at home and train them to stand on their own feet, as well as to merge into a family.
As soon as these girls achieve maturity and have completed some training or other, the Vikas Griha tries to get suitable life mates for them.
EDUCATION
SMT. SAMARATBEN TARACHAND DHAJNI BALMANDIR
SMT. JAYAKUNVER CHANDULAL MEHTA PRIMARY SCHOOL
SMT. GULABBEN SHANTILAL MEHTA KANYA VIDYALAYA
These educational institutions cater to the educational needs of the inmates as well as to the girls of the neighborhood and provide education from the pre-primary to the Higher Secondary stage.
The formal schooling is supported by various activities, both social and cultural, to help the girls broaden their outlook and acquire training for becoming balanced and helpful citizens.
TEACHER TRAINING
SMT. MUKTABEN ABHECHANDBHAI MEHTA ADHYAPAN MANDIR
SMT. SAMARATBEN TARACHAND DHANJI BAL-ADHYAPAN MANDIR
ANGANWADI WORKERS' TRAINING CENTRE
All the three train young ladies in acquiring proficiency in teaching at different levels and equip them with the ability to stand on their own.
The anganwadi workers trained here are employed in the Anganwadis rural, and slum areas of the city. The Vikas Griha runs 20 such Anganwadis in the various slums of the city.
TRAINING - OCCUPATIONAL
SHRI SHANTILAL P. MEHTA OCCUPATIONAL TRAINING CENTRE
SHRI CHANDARIA UDYOG – GRIHA
WOMEN'S SELF EMPLOYMENT CENTRE
SHRI JIBUTI HINDU MAHAJAN MAHILA MUDRANALAYA
An abandoned woman needs to live and support herself. As the percentage of education of women is still dangerously low, provision has to be made to give such unfortunate inmates an opportunity to acquire proficiency I some craft or another, such as embroidery, knitting, tailoring, mending, cooking, serving, beadwork etc. The training given is thorough and helps a lot the persons who have undergone them.
OTHER SPECIALITIES
SHRI SHRAVIKA SATSANG MANDAL-WEMBLY (U.K.) BAL-MAHILA PUSTAKALAYA
Books are the best friends. This library caters to the reading needs of the several hundred inmates, tiny tots, growing up girls and mature women, as well as to those living in the neighborhood.
SHRI JYOTI TRUST AROGYA KENDRA
This Centre looks after the needs of children, girls and women residing in the Campus and needing medical attention owing to illness of one or the other kind. There is an arrangement for an isolation ward also.
MATUSHRI GANGABAI TANNA GAUSHALA
Cow's milk is the best substitute for mother's milk, It is a great blessing for infants and also for the ailing others.
SHRI M.M. SHAH MAHILA CHHATRALAYA
The hostel caters to the needs of girls coming from outside Jamnagar to study in the two Adhyapan Mandirs. The routine is so arranged that girls develop sisterly spirit and work cooperatively.
SHRI JIBUTI HINDU MAHAJAN VYAVSAYI MAHILA NIVAS GRIHA
This hostel provides residential and other facilities to working women coming for work from outside the city.
RECOGNITION OF SERVICE
The Kasturba Stree Vikas Griha was given the Gujarat State Award for best work in the field of Child Welfare in 1982.
"Selfless work and service of th sheltered is great religion"
- Maharshi Aurobindo
Similarly such award was conferred in 1990 at the National Level, by the President, for the best work in Child Welfare. Moreover, Smt. Manjulaben Dave who worked as Hon. Secretary for a number of year from the day of starting and developed the Vikas Griha into a multi activity complex that it is today, and who now guides the Griha as Chairperson, was conferred the State Award as the Best Social Worker in 1983 and the National Award in 1987.
OUR ACTIVITIES
1. Smt. M. M. Shah Mahila Ashraya Griha
2. Matushri R.J. Tanna Bal Pratisthan
3. Balika Sanrakshan Griha
4. Matushri Jivibai Balgriha Kutir
5. Fondling Home
6. Creche
7. Family Counseling Centre
8. Legal Aid Centre
9. Yuvati Vikas Kendra
10. Smt. M. A. Mehta Mahila Adhyapan Mandir
11. Smt. S. T. D. Bal Adhyapan Mandir
12. Smt. G. S. Mehta Kanya Vidyalaya
13. Smt. J. C. Mehta Primary School
14. Smt. S. T. D. Mehta Bal Mandir
15. Anganwadi Workers' Training Centre
16. Anganwadi Centers
17. Shri Chandariya Udyog – Griha
18. Shri Jibuti Hindu Mahajan Mahila Mudranalaya
19. Smt. D. M. Maru Annapurna Griha
20. Shri S. P. Mehta Occupational Training Centre
21. Women's Self Employment Centre
22. Shri Shravika Satsang Mandal – Wembley (U.K.) Mahila & Bal Pustakalaya
23. Matushri Gangaben Tanna Gaushala
24. Smt. M. M. Shah Mahila Chhatralaya
25. Shri Jibuti Hindu Mahajan Vyavasayi Mahila Nivas Griha
26. Shri Jyoti Trust Arogya Kendra
Donations to the Institution are exempted under Sec-80G of the I.T.Act. Registered under Act XXI of 1860 No. 91 of 1956 on 31-7-1956